Vintage P.A. Tube Amp Conversion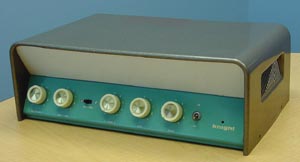 Looking for a very special one of a kind, high performance amp that no one else has?
Old public address (PA) tube amps can be modified with fantastic results for the guitar or harp player. We have done conversions on brands such as Airline, Bell, Bogen, Challenger, Knight, Masco, Newcomb, and many others. Most have low to moderate power output between 5 and 40 watts.
To maintain the mojo, the original outside look of the unit is retained as much as possible. Inside we transform the circuitry, first by making the power supply rock solid and dead quiet, then based on the player's input we build up an amplifier that utilizes many of the original & unique eight pin vacuum tubes. The new design will incorporate any feature the musician wants. Here are just a few of the upgrades that can be added:
all tube effects loop
extra gain boost
remote foot switch
silicon and tube rectifier option
add a master volume control
install a new premium Mercuy output transformer
multiple speaker impedance output jacks or selector switch
change voicing for killer guitar or harp tone
cathode/fixed power tube bias option
adjustable fixed bias so you can use un-matched NOS output tubes
add a fat or brite switch
increase clean headroom
boost the low-end response
install into a custom cabinet
Bring us you garage sale trophy or select one from our large inventory. The process starts with a free consultation to discuss your project and then we can determine the cost. Only the finest quality components and we feature Groove Tubes and Mercuy Magnetics transformers. Ultra rugged point-to-point construction used for most projects. The Bogen HE10 located in the photo gallery is a great example of a finished conversion
Note: Our warranty for this type of service is one full year for parts & labor except tubes and vintage transformers that are are covered for 30 days (and of course abuse related damage not covered).
Projects (return to top)